My FaucetCrypto.com Review
– Can you earn crypto?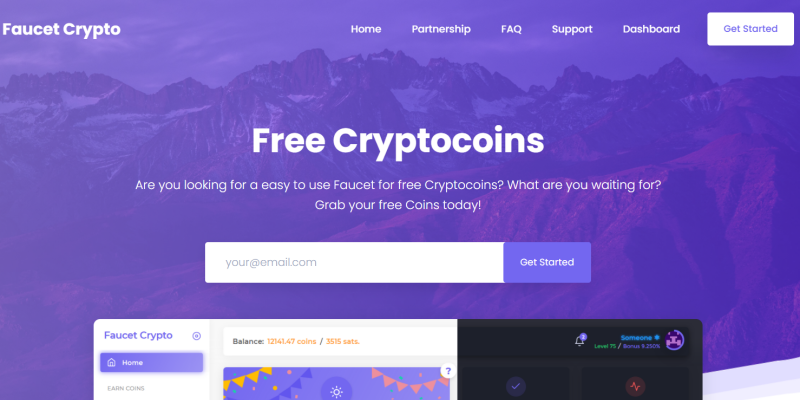 Summary of my review of FaucetCrypto.com
Overall, I really like FaucetCrypto.com. The interface is easy to use, the site has a large community, and withdrawals are fast and easy. FaucetCrypto is one of the multi faucets in my regular rotation. Read the rest of my FaucetCrypto.com review for how to get the most out of this site.
What is FaucetCrypto.com?
FaucetCrypto.com is a multicoin faucet and GPT ("Get Paid To") site that rewards users with "Coins" for making faucet claims, clicking ads, completing offers and more. These Coins can be exchanged for any of 20 supported cryptocurrencies.
Is FaucetCrypto.com legit?
Faucet Crypto is a real site that pays out without any hassle. Check out the large number of reviews on Trust Pilot.
FaucetCrypto.com has a 4.2 star rating based on 414 reviews (as pf 4/2021).
How to Earn Crypto at FaucetCrypto.com
Faucet Claims
You can claim "Coins" every 30 minutes. The base reward is 17.5 coins but will increase as you level up at Faucet Crypto. No CAPTCHA to complete, but there is a short 10 second timer to wait through. You can see below that my base claim is now 29.01 coins.
Daily Bonus
There is also a daily bonus of 25 coins, which is really a daily faucet. So also claim these coins everyday.

Shortlinks
To get started click "Complete Link", wait out the 10 second timer and click "Generate Link". You will go to a new page and you will click "Show Timer / Click Here" to get the timer to get started. Repeat one more time and you account will be credited.

Shortlink Achievements
If you complete multiple shortlinks you are eligible for more experience points. These extra experience points will raise your level and your bonus amount.

Level Achievements
When you reach new levels you get the opportunity to claim more coins in the Levels section. These level achievements go to at least level 1000. Note: this is not automatic, you have to hit the "Claim" button to get these rewards.

PTC Achievements
As you earn coins from completing PTC (paid to click) ads you also earn achievements. Two things to note:
these PTC achievements reset weekly, and
achievements reward you with coins or experience points. If you complete 25 PTC ads per week you get the reward from the PTC ads and all the achievement rewards.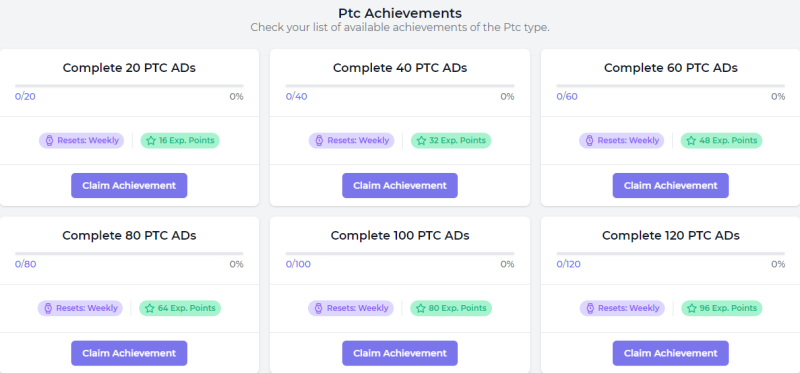 PTC Ads
To get started click "Visit Website" and a new tab will open. Wait out the timer and get paid. PTC ads are the easiest way to earn on Faucet Crypto next to the faucet.

Offerwall
Click here to see a variety of offers from Wannads, Surveywall etc. Bigger payouts but you will have to provide some personal information.

Withdrawal from Faucet Crypto
I really like Faucet Crypto's withdrawal process because my crypto shows up in my wallet very quickly. Faucet Crypto does charge a withdrawal fee of 50 coins, which is not much so I can live with that. I have never had a problem with a withdrawal.
As you can see in the image below there is a daily limit of how much you can withdraw. This limit will adjust upwards as you level up.

Available Crypto at Faucet Crypto
Note that sometime a crypto will be out of stock. In my personal experience I have never had to wait long for a particular crypto to become available.
Bitcoin – withdraw only to FaucetPay
Bitcoin Cash
Bitcoin SV
Bittorrent
Dash
Digibyte
Dogecoin
Ethereum – withdraw only to FaucetPay
Ethereum Classic
Komodo
Litecoin
Piratecash
Pivx
Reddcoin
Ravencoin
Syscoin
Tron
Verge
Zcash
Horizen
How much can you earn at FaucetCrypto.com?
So the following is a summary of all of my withdrawals from FaucetCrypto.com:
Litecoin – .1 LTC
Zcash – .18 ZEC
Dogecoin – 1255 DOGE
Verge – 64 XVG
Tron – 99 TRX
Digibyte – 263 DGB
As of 5/13/2021 the value of my accumulated crypto was $732.
Proof of Payment from Faucet Crypto
The following image shows my most recent withdrawal on April 21, 2021.

The second image shows this withdrawal deposited in my Coinomi wallet.
As of the most recent updated of this article I have initiated 34 withdrawals. I had one withdrawal cancelled and I received a full refund.
FaucetCrypto.com Referral Program
You earn a 20% referral commission on the activity of the users your refer to Faucet Crypto. If you join using my referral link I will receive a 20% commission based on your earnings. This does not reduce your earnings in any way.
The Faucet Crypto Community
Faucet Crypto has an active community. As I am writing there are more than 8000 users connected to the chat feature. Chat is available in English, Spanish and Portuguese.
Support at Faucet Crypto
Faucet Crypto does provide an email address when you can ask for support. I will not mention the email here. Navigate to the Support page and read the instructions. There also admins in chat.
Faucet Crypto Alternatives
My two recommendations for alternatives to Faucet Crypto are:
Final Recommendation
Based on my FaucetCrypto.com review I recommend Faucet Crypto as one of the best multicoin faucets. I really appreciate the clean and easy to use interface and fast withdrawals.