My Cointiply Review – How to Use Cointiply.com to Earn Crypto
My Review of Cointiply
In my Cointiply review I found this site to be one of the better websites to earn crypto online through a faucet or by completing tasks, clicking on ads etc.
If you found my article by searching for reviews of Cointiply you are probably already familiar with crypto faucets. Many of these websites offer a terrible user experience that makes them nearly unuseable. These days you need a good user experience to keep people engaged online and Cointiply delivers.
At the time of writing this article Cointiply has been in operation for more than two years. As I said above, Cointiply is one of the better crypto faucet and GPT sites. I would not offer this review if I did not think Cointiply is worth your time.
What is Cointiply?
Cointiply is a multicoin faucet and GPT site where you earn "Coins" from a faucet and by clicking on PTC ads and offers. This type of website is often referred to as a "GPT" site since you "Get Paid To" click ads, offers etc. You get paid by exchanging your Coins for Bitcoin, Doge, Litecoin or Dash.
From Cointiply:
Cointiply is a next-generation Bitcoin rewards platform.

Users earn free Bitcoin by interacting and completing tasks.

The only requirement is that you have a Bitcion or DOGE address to send payments to.
Read the Reviews: Is Cointiply fake?
Cointiply has a 4.8 star rating on Trustpilot based on 2,592 reviews (as of 04/2021). See the distribution of ratings below:
Cointiply Pays in Bitcoin, Dogecoin, Litecoin and Dash
So you actually earn generic "Coins". 10,000 coins equal $1 USD. Cointiply helpfully provides the equivalent value in Bitcoin (satoshi) in the upper right hand corner.
At withdrawal you can choose to get paid with either BTC, DOGE, LTC or DASH. I usually withdrawn in Bitcoin or Dogecoin due to personal preference.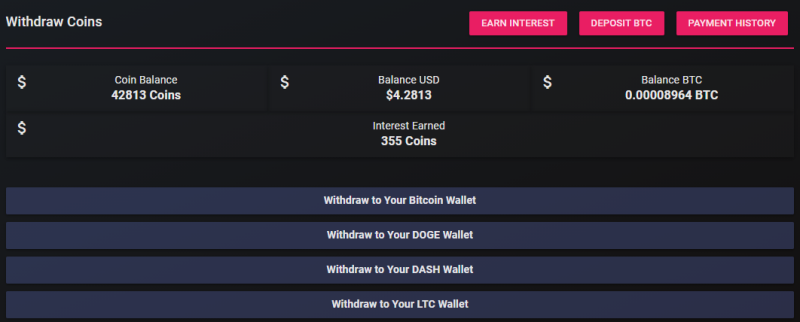 There minimum withdrawal amount are:
Bitcoin – $5
Dogecoin – $3
Litecoin – $3
Dash – $3
I document below proof of payment in Bitcoin and Doge from Cointiply.
How do you earn coins on Cointiply?
The easiest way to earn coins is the Cointiply faucet. Just click "Roll the Faucet" to get started. Complete the Captcha and click "Roll & Win". Your payout will be determined by your roll. If you roll 99,999 you win the jackpot. You can roll once every 60 minutes.
Faucet roll payouts are multiplied by the "Cointiplier". Everyone starts with a Cointipler set at 1.5x. Your activity at Cointiply can increase your Cointipler amount. Most people will remain close to 1.5x (I have never seen my Cointiplier change).
Check out the possible payouts below: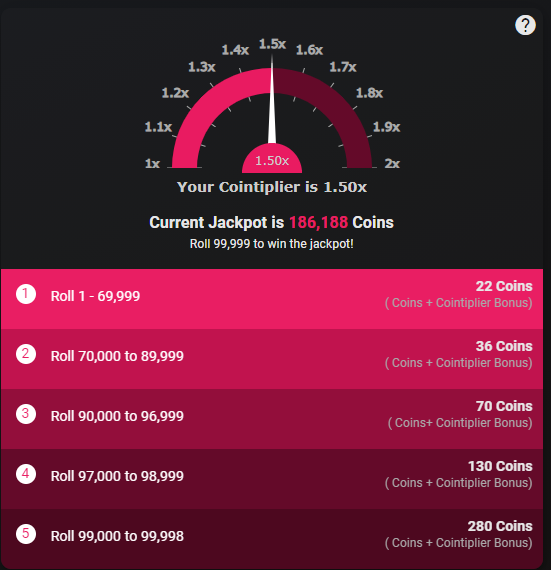 Cointiply Loyalty Bonus — Earn More by Visiting the Site Every Day
The loyalty system rewards members who visit Cointiply.com daily and claim from the faucet, complete an offer, get paid for a video, play a video game, or click a PTC ad. Each day ends at midnight GMT.
Your bonus increases by 1% for each consecutive day you make a valid claim. This can increase your claim amounts up to 100% if you are active 100 days in a row.
If you miss a day your loyalty bonus will reset to 0 😔.
If you are a premium member you can miss up to two days before your loyalty bonus resets.
Check out your loyalty report for the last 100 days at the bottom of the faucet page.
Also, check out Cointiply on twitter for giveaways and promo codes.
Cointiply Rain Pool
The Cointiply Rain Pool rewards users with free Coins just by completing task on Cointiply. See the following rules for the Rain Pool:
You must complete at least 1 offer, survey or PTC ad today to qualify.
Chatting does NOT increase your share.
Completing offers, surveys & PTC ads DOES help your share!
Your share may go down as more people join the pool.
You do NOT need to stay in chat to get your share, but you can!
The rain pool pays out when the drop is full and you will need to come back and join the pool again to qualify.

At the top of the Cointiply Chat interface is a water drop icon, which fills up as chat and site activity add to the rain pool. Next to the rain drop is the amount of Coins in the current Rain pool.
Cointiply PTC Ads
The pay-to-clicks (PTC) ads are one of the most time efficient ways to earn some Coins. You can usually get 200–300 Coins by working through all of the ads.
Select Earn Coins > View PTC Ads to see the list of available ads.
Cointiply Multiplier Strategy
So you will see videos and articles on strategies to beat the multiplier game. Play the multiplier for fun if you want but there is no long term strategy to beat the game.
Cointiply Mining Game Shut Down
The Cointiply mining game was very popular in the past as a way to make passive crypto income. However, the game was unsustainable for Cointiply as they were paying out far more than they were earning.
The mining games page now states "The Cointiply mining game has been archived and is no longer available." Cointiply.com does not have a crypto mining option at this time.
Earn Interest on Your Cointiply Balance
You can earn 5% annual interest on your coin balances over 35,000. Enable interest by clicking on your username and then select "Account Settings".
I do not keep a substantial balance at Cointiply. I withdraw my funds as soon as possible.
Does Cointiply have an app?
Yes, Cointiply does have an app in the Google Play store. The app has a 4 1/2 star rating based on over 8000 reviews. The mobile app is one of the better apps of this type. You can find the the app here.

How Referrals Work
Referrals work by sending users to Cointiply using your custom referral link. Anyone using your link will be attributed to you if they sign up any time within 30 days.
You will earn 25% of your referrals faucet claims for life.
You will also earn 10% of any of your referrals offer wall earnings.
There is no limit to the number of referrals you can send.
Referrals on the same device or in the same household are NOT allowed and will not be counted as referrals.
Referral commissions are paid once per day, shortly after midnight GMT. You can also track your referral earnings in real time on your "Referral Stats" page.
Please note that if you click through to Cointiply using my link in this review will receive a referral commission on your activity as described above. I do not write about any faucets or coin sites that I do not actually use.
Earn More Crypto Playing Games
At last count Cointiply offered 84 games of various types offered by Arkadium. You get 30 Coins when your activity bar fills up from playing games.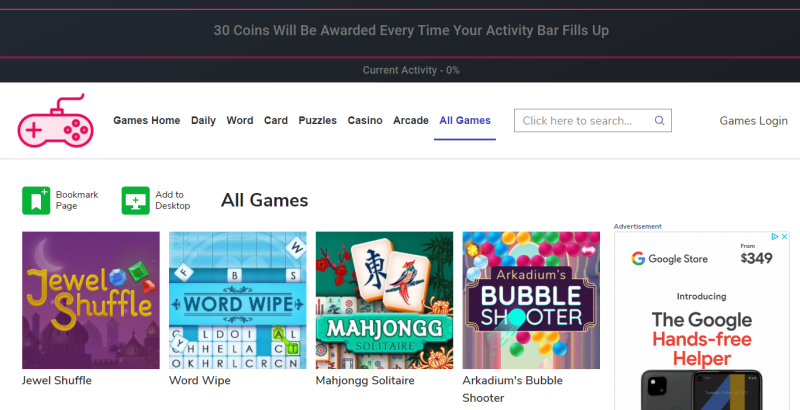 Cointiply Withdrawal Rules — How to Get Paid
You can withdraw your balance in DOGE if you have 30,000 Coins, or in Bitcoin if you have 50,000 Coins. No withdrawal fees are charged by Cointiply.
The withdrawal process has multiple steps:
Under "Payments" select "Withdraw Coins" which will take you to the withdraw page:
Enter your BTC or DOGE address, specify the amount you wish to withdraw, and click "Withdraw". You will get the following notice:
So check your email and click the link to approve the withdrawal. But wait, there is another step. You must click through and "Approve My Payment".
Now your crypto should be on its way. In my reviews of Bitcoin faucets and similar sites easy and free withdrawals are a must.
Proof of Payment
So I requested a withdrawal of $3.32 worth of Dogecoin. (This transaction was before the recent price increase in Dogecoin.) The DOGE appeared in my Coinami wallet by the following morning. At this point I have withdrawn multiple times and Cointiply always pays promptly.
See image of transaction:
How much can you make from Cointiply?
So the amount you can earn from Cointiply will be driven by how much time you have and which tasks you like to complete. Some task earn you more than others. You can easily expect to earn several hundred coins per day. Visit the site on a daily basis and make the most of your time.
So I totaled up the current value of all of my earnings from Cointiply.
I have earned and withdrawn .004385 BTC and 3799 DOGE. As of today, 5/13/2021, the equivalent in USD is $1699. So I really benefited from the Doge price increase as did a lot of people.
See most of my history of withdrawals from Cointiply below: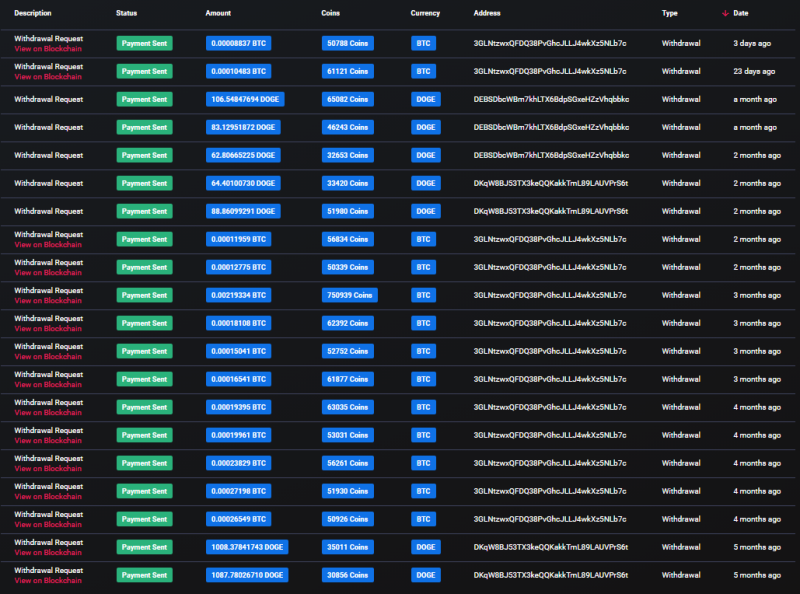 How does Cointiply stay in business?
You may wonder "How does Cointiply make money?" and stay in business.
Cointiply earns revenue through:
Display advertising
Sponsored promotions
Survey campaigns
Offer campaigns
Exclusive partner campaigns
PTC advertisements
Every time a user completes a survey or offer on Cointiply, they take a small percentage of the overall reward. Those funds are used to cover operating costs, pay the support team, cover reversals from advertising partners and to fund the faucet & chat rain pool payouts.
From Cointiply:
Cointiply keeps margins as slim as possible to offer the highest rewards possible to our users. Additionally, Cointiply does NOT charge any fees for incoming or outgoing transactions.
If you liked my Cointiply review and are ready to get started click here to try Cointiply.
Alternatives to Cointiply
If you like Cointiply I would also check out:
I have used both of these site and recommend both.
Affiliate Disclosure: I earn a referral fee for some activities of any users referred to Cointiply from the links in this article.